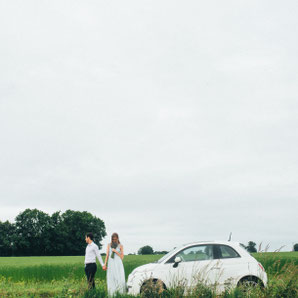 More and more couples are deciding to tie the knot in France. They come from all over the world and are not discouraged by lengthy travel times. Brazil, China, Russia, Japan, England – couples from different corners of the planet are seduced by the French charm. Indeed, France is a great spot to organize your wedding celebration. It has so much to offer that it is sometimes quite difficult to choose your destination within the country. In this blog I will give you an overview of the most popular wedding locations in France and will list their pros and cons.  
Wedding in Paris
Pros
If you have always dreamt of a princess wedding, Paris is the place for you! There are some truly royal spots here for a sublime luxury wedding. Paris offers you plenty of high-end hotels and palaces where you can organize the wedding of your dreams. Beautiful décor, impeccable service, and top chefs are there to make you feel like real royalty. In addition, Paris is very well connected with the biggest cities in Europe and the rest of the world, making travel to and from the city easy and comfortable. The other advantage of Paris is that there are many English-speaking wedding professionals, which is not always the case for other French regions. Last but not least, Paris offers you an unbeatable setting for your wedding photo shoot. Think of the Eiffel Tower, Notre Dame, or Montmartre… Is there any other city in the world that can offer something similar? 
Cons
There is only one: the price. Organizing your wedding in Paris "intramuros" is quite pricy, as rental rates are typically 30% higher than elsewhere in France. The same goes for other wedding services (photography, make-up, etc). Simply put, rates are higher in the French capital. Having said that, there are numerous of beautiful chateaus and villas within an hour's drive from Paris where you can organize your wedding at more reasonable rates.  
Wedding in Normandy
Pros
Organizing a wedding or elopement in Normandy is becoming trendy. Indeed,  Etretat is a new Provence. Forget about lavender fields, white cliffs and endless seaside are now très en vogue.  Normandy is a very beautiful region with a breathtaking views and amazing landscapes. It will suit you perfectly if you want to organize a dreamy, romantic, or rustic wedding.  
Cons
If you decide to marry in Normandy, you will have to think through your guests travel logistics, because it's not easy to get there. Your guests will have to travel by plane to the capital and then take a train + further transport to get to the wedding site. If you want your guests to arrive on time and with no stress, think of booking a private transport from Paris. Another disadvantage is that there are fewer venues to choose from. However, if you plan a little private event with around 30-40 guests, you will always be able to find a lovely villa or chateau.   
Wedding in Provence
Pros
Provence is amazing region for organizing your wedding! It's beautiful, the climate is nice and warm, and it's less likely that it will be raining during the big day. There is a wide choice of wedding venues of all different styles (elegant villas, cozy provincial houses, renovated farms, etc). Rates vary depending on the quality and services offered by the wedding venue, but as a general rule prices are more affordable than in Paris. Provence is perfect for organizing romantic, bohemian weddings.
Cons
It can be very hot during the summer months, and it is generally recommended to avoid organizing your wedding in Provence in August. In order to save water, local administration often prohibits property owners to water grass and lawns during August, so here again you should be careful when choosing your wedding venue. You may book a beautiful garden and arrive to a desert.   Most potential wedding venues are located in the countryside, so you will need to make sure your guests can get there comfortably and on time.  Note that Provence is probably one of the most popular regions for destination weddings, so the competition may be quite fierce. It is advisable to reserve your venue at least one year in advance.   
Wedding in Cote d'Azur
Pros
It's beautiful and sunny, there is a party ambiance and your guests will definitely attend. You have many options for the venue and you can easily combine your celebration with a holiday trip. Another advantage is that you have plenty of English speaking professionals. The Cote d'Azur is great for organizing luxury weddings with more than one hundred guests. Weddings at Cote d'Azur are predestined to become extraordinary.  
Cons
Cote d'Azur is a world-famous party spot, and venue rental rates can be extremely high, sometimes reaching 6-figure sums. Nevertheless, it is always in-demand, so it's better to book your venue and suppliers well in advance.
If you wish to have more information on your wedding planning in France, feel free to contact me on katerina@sospecialevents.com and I will be happy to help you.
Ask me a question about your wedding planning in France