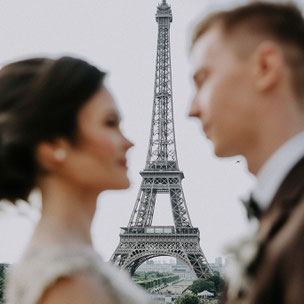 Congratulations ! You are engaged and you have decided to do say « I do » in Paris.
All you need now is to find your perfect venue and reliable supliers. In this blog post I will give you  insight into great locations both in and near Paris, including details on  their offers and rates.
Wedding in Paris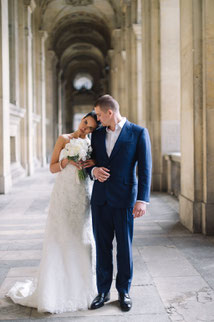 For those couples who want to stay in central Paris for the reception and the party, the most common solution is to have a wedding in one of its hotels or palaces. They offer various packs that normally include pre-dinner cocktail, three course meal and basic floral decoration. Prices vary from 250€ to 400 € per person. One potential inconvenience is hotels' noise level policies.  You can't really have a party till dawn and when you travel so far from home you really want to enjoy your Big Day.
For more freedom and privacy you may consider hosting your wedding reception at one of the private halls situated in Paris. They are normally less expensive (180-250€ per person), but still offer beautiful decor and great cuisine. They are slightly less central, but a ten minute taxi drive will be enough to get from the venue to the hotel. Contrary to some hotels, you can extend your party well over midnight without being obliged to pay too much attention to noise levels.
Wedding in Parisian region (Ile de France)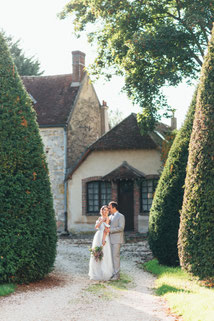 Ile de France is a 12 000 square kilometer region around Paris. It is quite well connected with central Paris via the regional railway system (RER).
In this area you will find plenty of castles, villas, mansions and other elegant properties that can host your wedding. The huge advantage of renting out a venue outside Paris, is that you can book it for the whole weekend. It will allow you to get the most out of your celebration by continuing it the following day. Whether you decide to organise a brunch, picnic or bbq party, you will be able to enjoy the moment with your guests in a less formal ambiance. It is also much more enjoyable for your guests who have travelled long distances to make it to your event.
Prices vary a lot depending on the property type and its popularity. Some castles may charge you up to 8 000 € per day, whilst others with similar level of service will only charge 4 000 € per weekend. 
Combining both!
If you want to enjoy both Paris and its surrounding countryside, the best option for you would be to have a symbolic or religious ceremony and/or wedding shoot in Paris and your reception in a private property within 40-60 minute drive.
For more information on organising your wedding in Paris, please feel free to contact me on katerina@sospecialevents.com  
Ask me a question about your wedding planning in Paris