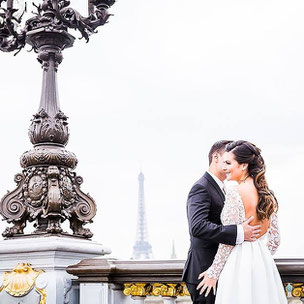 Having a love story photo shoot became somewhat a must-do before your wedding. We see so many beautiful posts on social networks and in our favourite blogs, that we all want to have the same sweet and romantic photos. Yet, it often happens that even after a several hours photoshoot with a professionnal photographer, we are still dissapointed with a result which doesn't correspond to what we have expected.
How to avoid failure and get the most of your love story shoot? Advices from a Paris based wedding photographer Matt Guegan.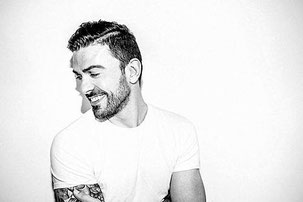 When I first meet with my clients, I almost always get asked if and how they will be able to handle their couple photoshoot. I often see people that are worried that they won't know how to pose, or even think that the camera won't like them at all.  And my answer is always that it never happens ! Here's why, and a few best practice advices to help you get ready for the best couple shots. 
Pick a good pro that will make you feel comfortable
First of all, you have to keep in mind that your photographer should know better than to ask you to pose like you're shooting the cover of Vogue. Modeling and posing is a full time job, and I would never ask my couples to do so, because the result will most likely be awkward at best, and certainly laughable.  On the contrary, my personal goal, when photoshooting couples, is to achieve the feeling of something natural and true. I want your love to show on the pictures. Your real love.
So I would suggest you pick a photographer with a « reportage » or candid approach. One that will make you comfortable and will provide you with real and natural images of your true selves. Personally, I just pick a good spot, I give a few directions, and then I let my lovers live and move, and kiss, and laugh…
Define time & location for your photoshoot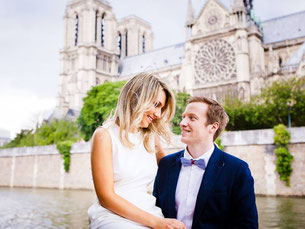 A good couple session runs for about 2 to 3 hours. You'll have time to select several locations, even several outfits. Again, you have your say in this. But keep in mind that you can always rely on a good photographer to provide you with ideas for your shooting time & location. More than that, you should listen to him or her because they probably know what's a good idea or not. Certain locations might get crowded in big cities around certain times, or days of the week. And according to what your dream photos are, you might have to plan for an early or even night shoot. It is important to discuss this with your photographer in advance so that you don't get disappointed, because unfortunately, some of your dream pictures might be impossible.
Also, don't pick too many locations : it is best to focus on 3 to 4 fav places, so that we have time to fully concentrate and get the most out of each one. 
Preparing your photoshoot : Do's and Dont's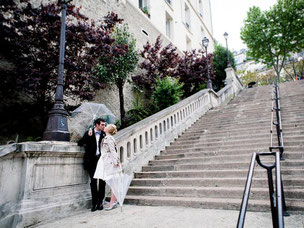 If the couple session takes place during your wedding day, of course you'll be prepared from head to toes, and will most certainly look your best for your couple photos.
But if we're talking engagement session, or even trash-the-dress, there is just a good amount of preparation to keep in mind. My key word would be simplicity. Look smart, look sexy and chic. But look yourself above all. You can use the help of a professional hair and make-up artist, or you can DIY. But in any case I would always recommend something that would look as natural as possible. Excessive make-up won't ruin it, but you might regret it later on in a few years…

Same thing with your outfits. Keep it simple. Look yourselves. Avoid printed graphic t-shirts, or too many colors, or unnecessary props. The focus should be on you, not your clothing or make-up.
Another advice is to avoid carrying a big bag or suitcase ! You and your photographer won't be able to keep an eye on your belongings at all time. So you should leave any unnecessary item at home.


Trust your photographer
As far I am concerned, shooting a love session is not a one way relationship. Meaning that, as a photographer, I don't think I know it all, and that I am open to hear any suggestion during the shoot. So feel free to tell your photographer of anything you would want in your photos, like  a certain backdrop, a certain type of action shot, etc.
But there is a but ! You do have to be trustful of your photographer, and the point is not to provide him or her with a 2 pages list of things you have seen on Pinterest or Instagram and really really want. You should choose your photographer based on what you have seen on his site, and based on his own style and narrative qualities. And then you have to let it go, and let him do his job. In other words, just have fun with it, keep calm and let the magic happen !