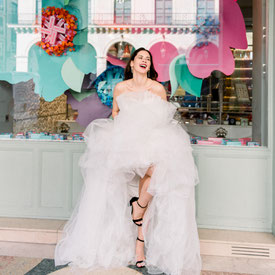 There are two things that leave me rather frustrated about weddings. First, is that you can only wear your wedding dress once.  Second, is that in real life situations, brides often don't have  enough time and energy to do a long photoshoot on their wedding day. 
Even when couples dedicade two or even three hours to photography, it is sometimes not enough to make all photos they wanted.  Besides, grooms tend to get exhausted and camera-anxious quite rapidly. 
Having a solo bridal photoshoot is a cure to both of the above-mentioned problems. You can take your time to have fun making photos in a stress-less environment, you get to know your wedding photographer, and you are sure to have loads of amazing photos you will love. Plan your bridal photoshoot on the day you have your hair and make-up test and enjoy being the bride! 
See photos from our last Parisian bridal photoshoot in this blog post!