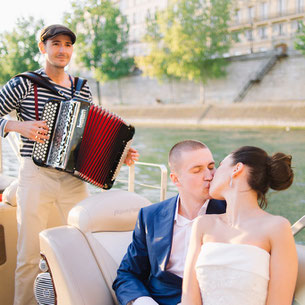 Rita and Vadim, beautiful couple from Ukraine has opened my wedding season this year. They choose to elope to Paris in order to live the most intimate and the most memorable moments in tête-à-tête. 
After official ceremony in Ukraine, Rita and Vadim came to Paris for a symbolic ceremony that I officiated at the Bir Hakeim bridge. This is one of the spots that offers  beautiful view at the Eiffel Tower without being too crowded. Unlike Trocadero square, you can go there in the afternoon without tisking having too many people around you. 
After the ceremony Rita and Vadim have left with their photographer for a wedding photoshoot, whilst I was busy preparing a boat for their romantic cruise. It was a beautiful sunny day, but the temperature was only around 13C°. Nevertheless, we have decided to maintain the promenade and added somewhat like dozen of plaids. 
What I would like to add about the boat promenades, is that it is a great solution for your private ceremonies with your closest friends and family. If you are twelwe or less, you can enjoy the private cruise with  music and barman at a very competitive price.
If you are inspired by this elopement and want to have your ceremony on a private boat, don't hesitate to contact me at katerina@sospecialevents.com for a detailed quote.