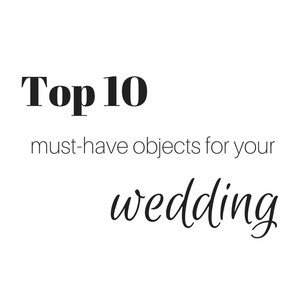 Planning your wedding and worrying that you will forget something important? 
Here is a top 10 list of must-have objects that you need to buy before your wedding.
My favourite wedding marketplace is etsy, most of items I got for my own wedding came from there. If you are from USA, you are even more lucky than us europeans, because there are much more vendors based in states than in Europe (which means you can save on delivery fees).
1 Ring box
There are so many wedding dedicated online stores that create gorgeous boxes that it becomes tricky to choose. Try to stay calm and pick the one that goes well with your wedding style. Wooden boxes are good for boho, rustic or eco-weddings, golden or velvet for glamourous or luxury weddings and glass for vintage or retro styled weddings. 
2 Tray
To showcase your rings, invitations and rsvp cards, as well as all other sweet and beautiful wedding items. 
3 Gowns for you and your bride-tribe
It is a lovely gift and having same dressing gowns feels fun and sweet. It will also look great on your photos. If I can give you an advice, choose those robes that have no texts on them, unless it is your friends' names. 
4 Vow books for you and him
Never read your vows from a random piece of paper or worse, your phone. Get yourself beautiful books that you will keep.
5 Silk ribbons
Just because they look great on photos and add them that extra artistic touch. 
6 Hangers
For you, your Mr Special and your bridesmaids. You don't necessarily have to buy them, you can also do them yourself. It is easy and will save you some money. 
9 Box for cards and envelopes