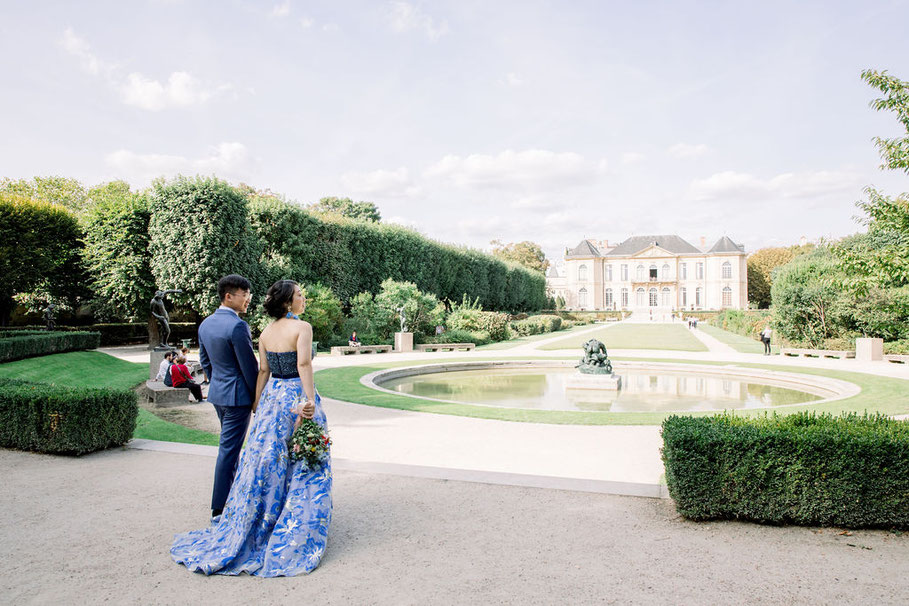 Jinyan and Chang is a lovely couple from Beijing for whom having an elopement in Paris was a dream. They have contacted me one year before the intended day of the ceremony and were probably the most touching couple of the year. 
Being closely connected to the world of architecture, they were dreaming about the ceremony in a christian cathedral and a photo shoot in the Rodin museum. Did you know that you can have a religious ceremony in France even if you are not a french resident?
To be completely transparent, the museum's policies on wedding photo shoots in their gardens still stay very opaque to me. I have contacted the museum several times before our photo shoot, and every single time I was getting a positive answer confirming that we only need to purchase entrance tickets and make sure that the comfort of other visitors is respected. We didn't have any troubles on the day of the ceremony, nevertheless I have heard an echo from my colleagues, saying that they were asked to leave when they came for a photo shoot with their clients. Something to bear in mind...
Jinyan and Chang have started their morning in the Ritz. They have checked-in the same day as their celebration, at 9 am. Despite the promises of the Ritz, their suite has not been ready, so they had to start their getting ready in another room, and move to their suite with the balcony later. 
When the couple was ready we have all moved to the American cathedral, probably the only church in Paris that accepts holding a religious benediction ceremony for non-religious couples. The ceremony was translated to Chinese, and we have even had direct video chats with couple's families, so that they could see everything! It was Jinyan's  amazing idea, as despite thousands of miles between Paris and Beijing, their families have seen every moment of the ceremony. Guess who has been holding phones :)
After the ceremony and a photo shoot in the cathedral, Jinyan has changed a dress (she had three dresses in total) and we have moved to the Rodin museum in Paris.  It is an amazing place for taking photos that remains quite under-exploited, which is great, as once dozens of couples start taking pictures there daily, the museum's management will definitely ban it, so hurry up.
At the exit of the Rodin museum, a beautiful Bentley and its super stylish driver Pascal have been waiting for Jinyan and Chang, to get them for a ride around Paris. 
After another photo shoot at avenue de Camoens (a quiet spot with the view on the Eiffel tower), we have moved to the Ritz, where I have prepared a sweet table for our lovebirds with champagne and wedding cake. 
It was a very pretty and very emotion-intense celebration. There is no bigger pleasure to me, rather than seeing a smiling and laughing couple that is crazy in love and enjoying their Parisian experience. 
Want to elope to Paris too? Drop me a line and we will design a unique celebration for you!