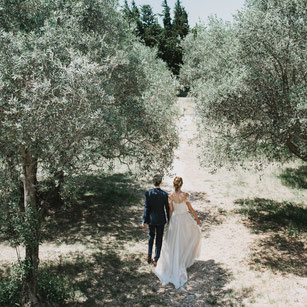 Today I would like to share with you photos and impressions from my own wedding that me and my fiancé have organised in Provence. 
I need to tell, that even though we live in Paris and are both in love with this city, we have always wanted to celebrate our wedding in Provence, my fiancé's home region. I fell in love with Provence the second I have first seen it through the window of the train Paris-Arles. Beautiful southern landscapes, huge cultural heritage, great food and vine, pleasant climate - it's an ultimate spor for a romantic and chic wedding in France.
We always knew that we didn't want a simple wedding party. Instead, we wanted to offer our guests a mini break in the great company and in the region we love so much. This is why we have decided to  rent out a typical provencal villa (called mas in the region) for three days, instead of just booking a wedding venue for one night. Friday was dedicated to a pre-party with rosé and petanque (typical french game), Saturday - to an "official" celebration, and Sunday - to a bbq party around the swimming pool. Even though I wasn't excited about the idea in the beginning (because of the costs it represented), but I need to admit, this was a great decision. All of our friends keep saying that it was the best wedding they have ever attended and everyone has really enjoyed the moment. After all, is there anything more important at the wedding reception than the pleasure of everyone ?
We always wanted to have an intimate wedding celebration, this is why we have decided to have a vows exchange ceremony in addition to an official ceremony in the Mairie. This was also a moment, where our parents and friends pronounced their speeches. 
From the organisational point of view, this is a great solution. First of all, it allows to group all the key moments in one time gap. By doing so you are sure that your parents, bridesmaids and groomsmen enjoy the diner and the party without being nervous about the upcoming speech. Secondly, noone is going to miss your mum's speech just because he or she choose a bad moment to have a cigarette or go to the bathroom. And thirdly, vows exchange ceremonies are so sweet and memorable, that it should be  a crime not to have them! 
Having an outdoors wedding in Provence implies several details.
First, it might be very very hot, espacially in July and August. This is why it is important to plan the celebration either for the late afternoon, around 6-8 pm (that is what we did), when the sun is less intense, or  have it in the place with a shadow.
Second, there is mistral - strong and gusty wind typical for Provencal region. It makes glasses on the tables fall, as it does with your floral decorations. There is no way you can predict mistral, so make sure your decoration is heavy enough or wind-resistant.
If you plan to have a wedding in Provence and need help in planning, I will be happy to assist you. Just send me an e-mail with the details like date, number of guests and global budget, and I will get back to you with a personnalised quote.  A bientôt!