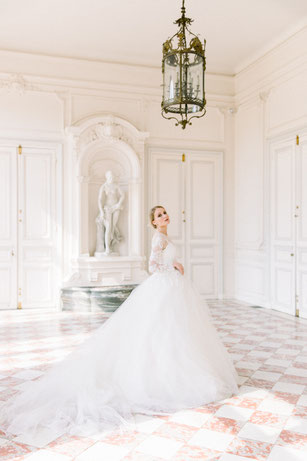 As you can imagine, it's difficult to answer this question, because weddings can be so different. You can have a cosy reception in a french château near Paris for thirty people, or throw a party for hundred people on a private villa on the Côte d'Azur. To help you to get your ideas clear about the price for organising your wedding in France, I've decided to write this article. 
Let's start with the venue, as it is one of the most expensive elements in your budget. Most of couples, both french and foreign, choose to host their wedding receptions in castles. It's better if you have a private one and not a hotel-château, so that you can enjoy the privacy and intimacy of the place for the whole weekend.
Starting price is 3K€ for a weekend, which sometimes, but not always include rooms. However, to get a beautiful, newly renovated castle with cosy and modern interior and gorgeous garden you should be prepared to pay somewhat between 5K€ and 7K€. 
These prices are relavant for castles near Paris, as well as for all others regions in France, except the Côte d'Azur. There, private villas or castles will cost you at least 10K€ per night. 
Should you wish to have a reception in a beautiful « mas » or castle in Provence, expect to pay from 7k€ to 15k€ per weekend. 
Let's talk about catering now. In order to enjoy real french cuisine and have a great service, count around 100€ per person. This price will include a cocktail, a starter, a main course, a dessert and a couple of glasses of wine. Open bar comes at a supplement. More luxurious meals from Michelin-starred chefs will cost around 200€-300€ per person.
Photography & Video. Prices start at around 4 500€ for ten hours of presence (photo+video). However, most of the time ten hours are not enough to capture bridal morning, photoshoot, ceremony, dinner, wedding cake and a party. 12 or even 15 hour service is more realistic and will cost from 5k€ to 7k€. Should you have a reception with hundred or more guests, it's a great idea to have two photographers and two cameramen. More « fashionable » photographers might charge you up to 8-10k€. 
Decoration. It's really difficult to give a minimum cost and absolutely impossible to provide a maximum price tag. Decorating your wedding venue and ten tables (each for eigh people), and creating a cosy corner for photos may cost from 2000€ to 5 000€.
Should you need a « heavy » and voluminous decor, like crystal chandeliers or ceiling decoration with fabric, count another 5k€ to 7k€.
If you have more questions about wedding planning prices in France, please don't hesitate to leave your question in comments below, and I will be happy to answer ! A bientôt !